Etsy is often the first marketplace crafters, artisans, and vintage sellers turn to, which is understandable. After all, the ecommerce platform was designed with them in mind.
However, if you're looking for Etsy alternatives, or simply want to expand to similar channels, there are several other marketplaces to consider.
But before we explore the other options out there, let's explore why sellers may seek out other sites like Etsy.
Why Sellers May Consider Etsy Alternatives
There are several reasons why ecommerce may seek out other sites like Etsy to sell their products. Here are a few of the most common ones.
Sellers want to stand out from the competition.
It can be challenging for Etsy sellers to differentiate themselves from competitors because even when a potential customer is on a specific product page, the platform recommends sellers who offer similar products.

For example, a user viewing a specific candle can simply scroll to the bottom of the product page to see other sellers' candle offerings, as illustrated below.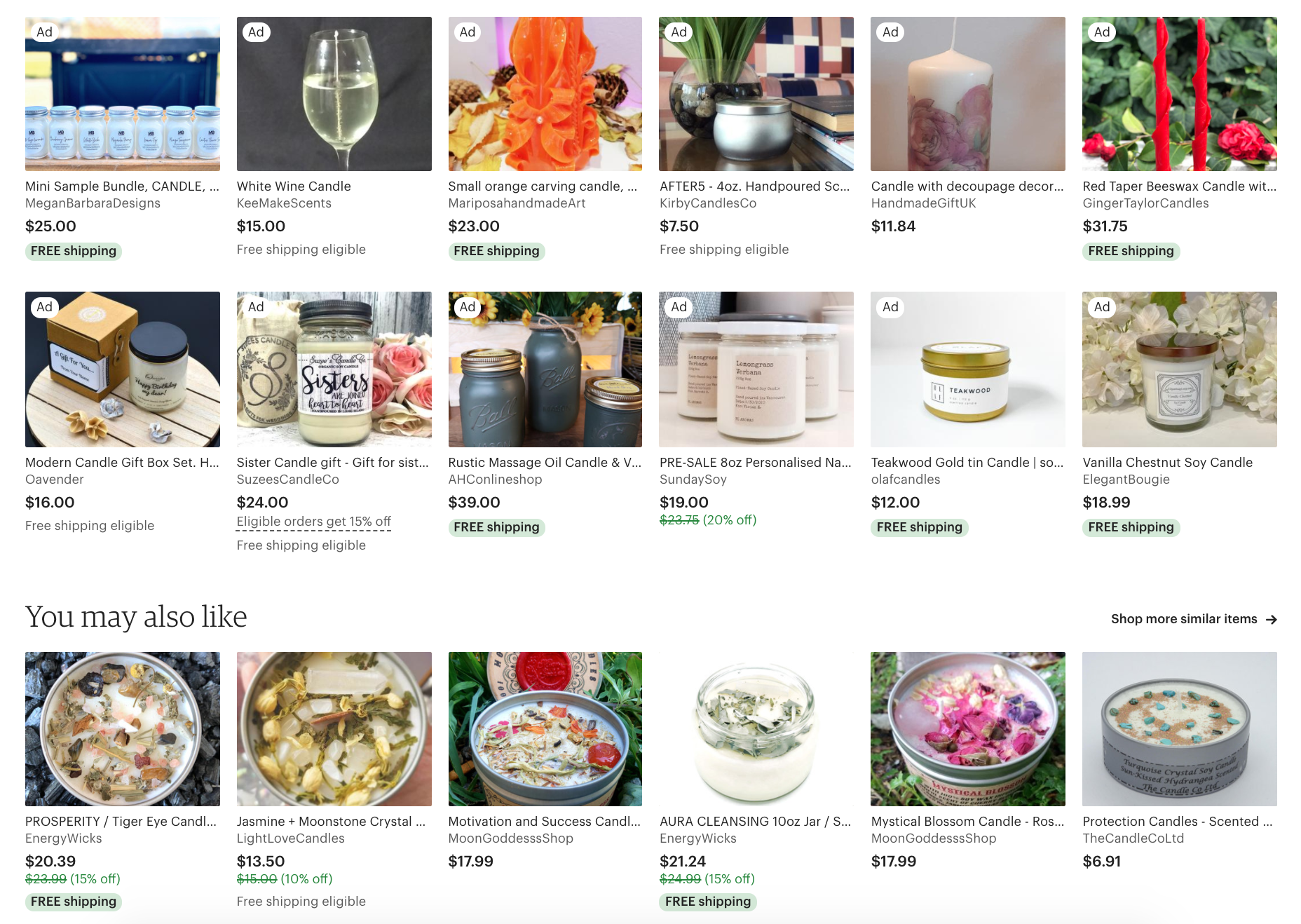 So even Etsy sellers who spring for a paid promotion will still find themselves pitted against other sellers.
Sellers want more marketing options.
Etsy sellers can't engage in many traditional ecommerce marketing techniques.

While paid promotions are an option, the platform offers no marketing tools or Facebook remarketing. And sellers aren't permitted to collect buyers' email addresses or even communicate with customers after the completion of a sale.
Sellers want to expand into non-handmade items.
Etsy permits only handmade products, vintage products, and craft supplies to be sold on its platform.

So sellers who want to expand into wholesale offerings — or successful Etsy users who simply outgrow the ability to hand-make every item — won't be able to continue using Etsy.
Sellers want to diversify their marketplaces.
Some Etsy sellers may wish to continue to use the marketplace, but they want to expand their reach and sell on other ecommerce platforms as well.

Selling on additional marketplaces can be a great way to increase brand awareness and product visibility. Plus, it can really impact a seller's bottom line.

Research by Sellbrite has found that merchants who sell on three or more channels sell 156% more. And Sellbrite merchants are seeing over 300% growth after only one year.
Sites Like Etsy to Sell Your Creations
Luckily, there's no shortage of Etsy alternatives out there for crafters, creators, and vintage sellers. Here are 10 sites like Etsy to set up shop.
1. Amazon Handmade
Ecommerce giant Amazon has its own artisan marketplace that features sellers from more than 80 countries.

Being an Amazon platform, Amazon Handmade has a lot of potential for makers. And since more than 63% of shoppers begin their product searches on Amazon, customers often arrive on Amazon ready to make a purchase.

Sellers must submit an application to be part of the marketplace and offer only handcrafted goods. They must also register for Amazon's Professional selling plan, which costs $39.99 per month. However, this fee is waived for Handmade sellers.

As for costs, Amazon takes a 15% referral fee for each sale on Amazon Handmade.
2. Artfire
The ArtFire marketplace is similar to Etsy in that only handmade goods, vintage items, and craft supplies can be sold on it.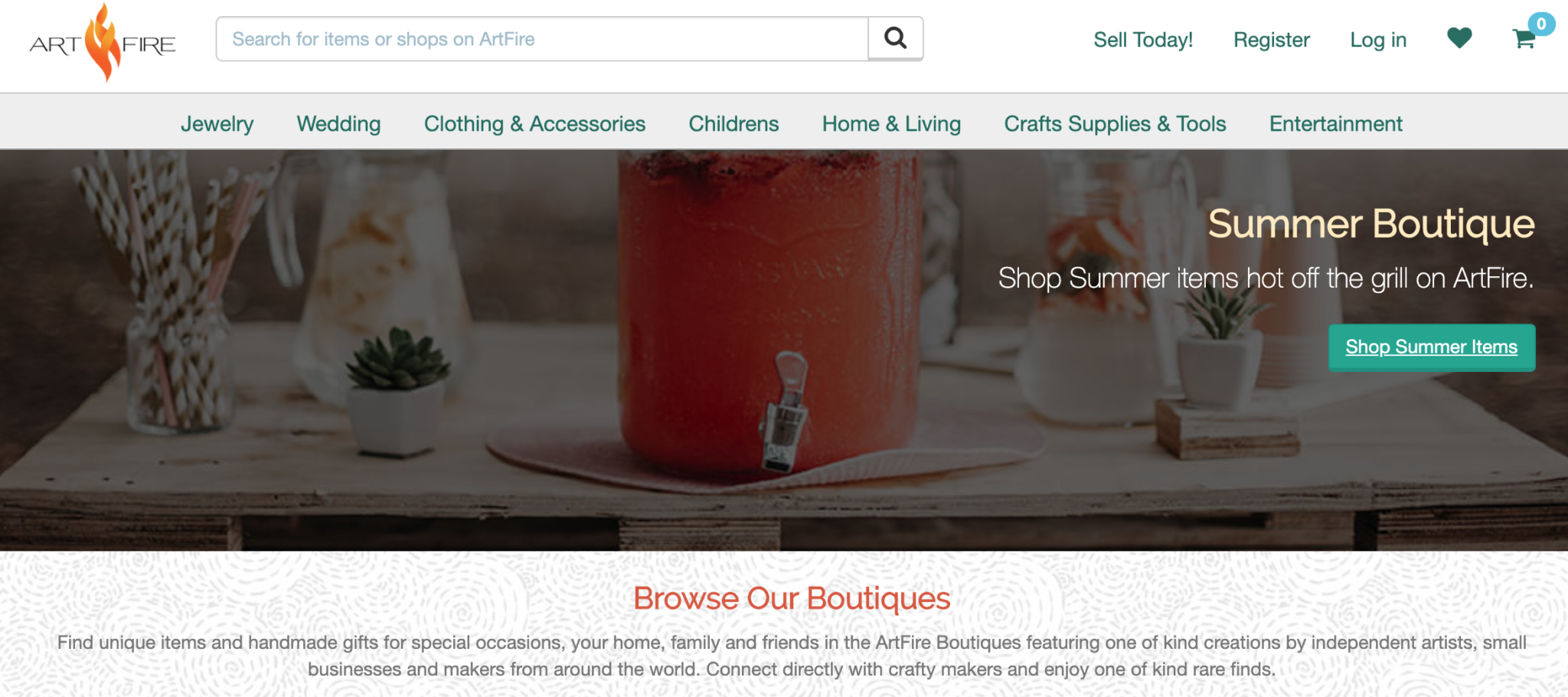 The platform offers three selling plans — standard, popular, and featured — that range in price from $4.95 per month to $40 per month. With the standard shop, there's a listing fee of 23 cents per item.

One of ArtFire's most unique features is that it allows shoppers to post "wanted" ads if they're looking to have a specific item made.
3. Ruby Lane
Ruby Lane is the largest curated marketplace for antiques, vintage items, art, and jewelry.

The site gives sellers access to Google Analytics data, allows them to Skype with customers, and permits them to use third-party marketing tools.

It also sets itself apart from Etsy with its secret shopper program. Participants make purchases, and if their experience doesn't meet marketplace standards, Ruby Lane privately contacts the seller with feedback and recommendations.

There are no listing fees, but Ruby Lane charges maintenance fees that vary based on how many items are listed for sale. There's also a service fee of 6.7% that's capped at $250.
4. Storenvy
More than 67,000 brands sell their goods on Storenvy, a marketplace that specializes in small, independent brands.

The marketplace prides itself on offering high-quality products, and its average sale price is higher than Etsy's. The site regularly promotes its sellers' offerings on social media, which can give listings more mileage than a paid promotion on other marketplaces.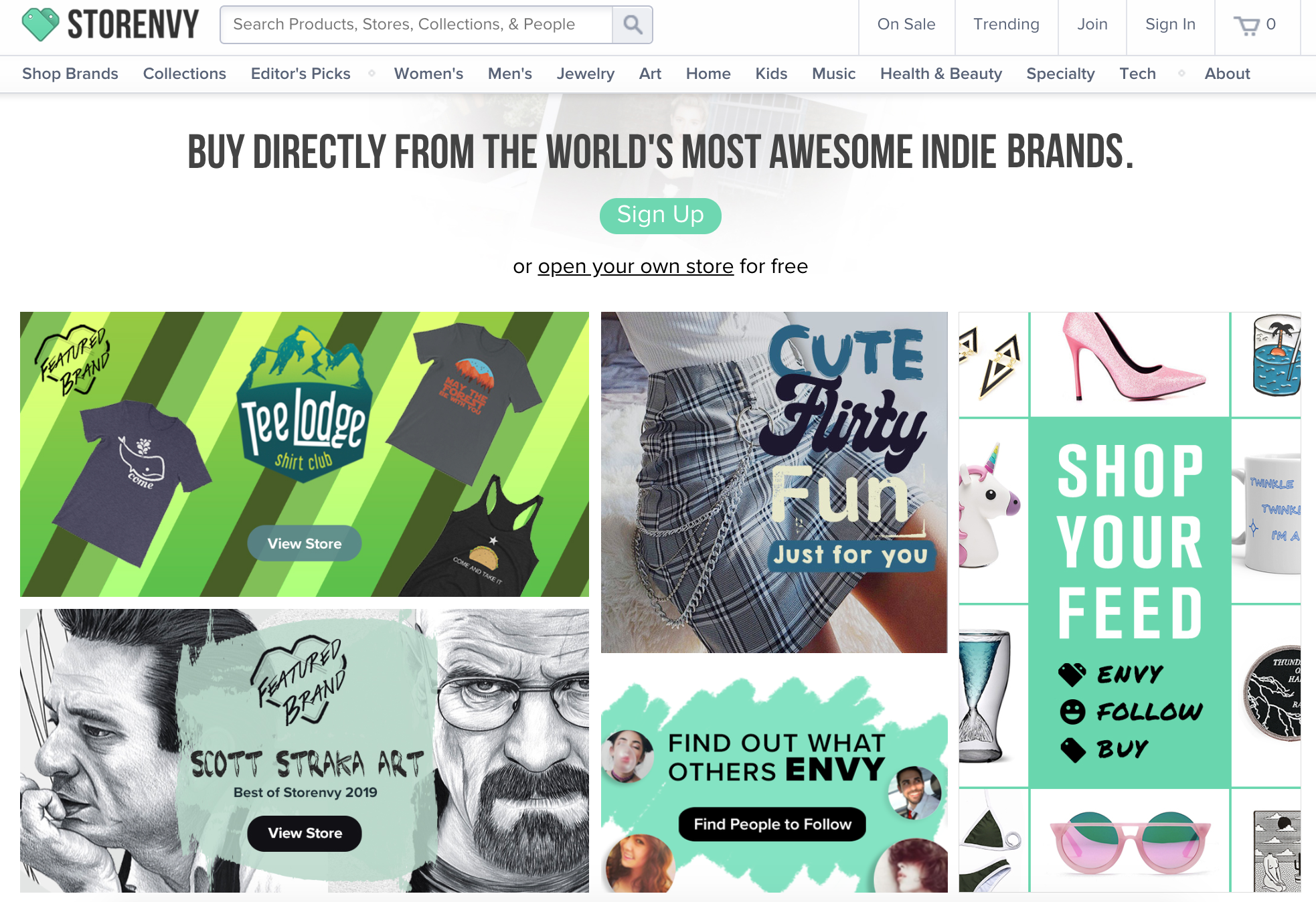 Storenvy charges a 15% commission on sales and has no other fees.
5. Aftcra
Aftcra is a site like Etsy that's exclusively for Americans who make and sell handcrafted items.

The marketplace has a very strict definition of what constitutes a handmade item, but as long as your creations fit the bill, it's easy to get set up and selling on Aftcra.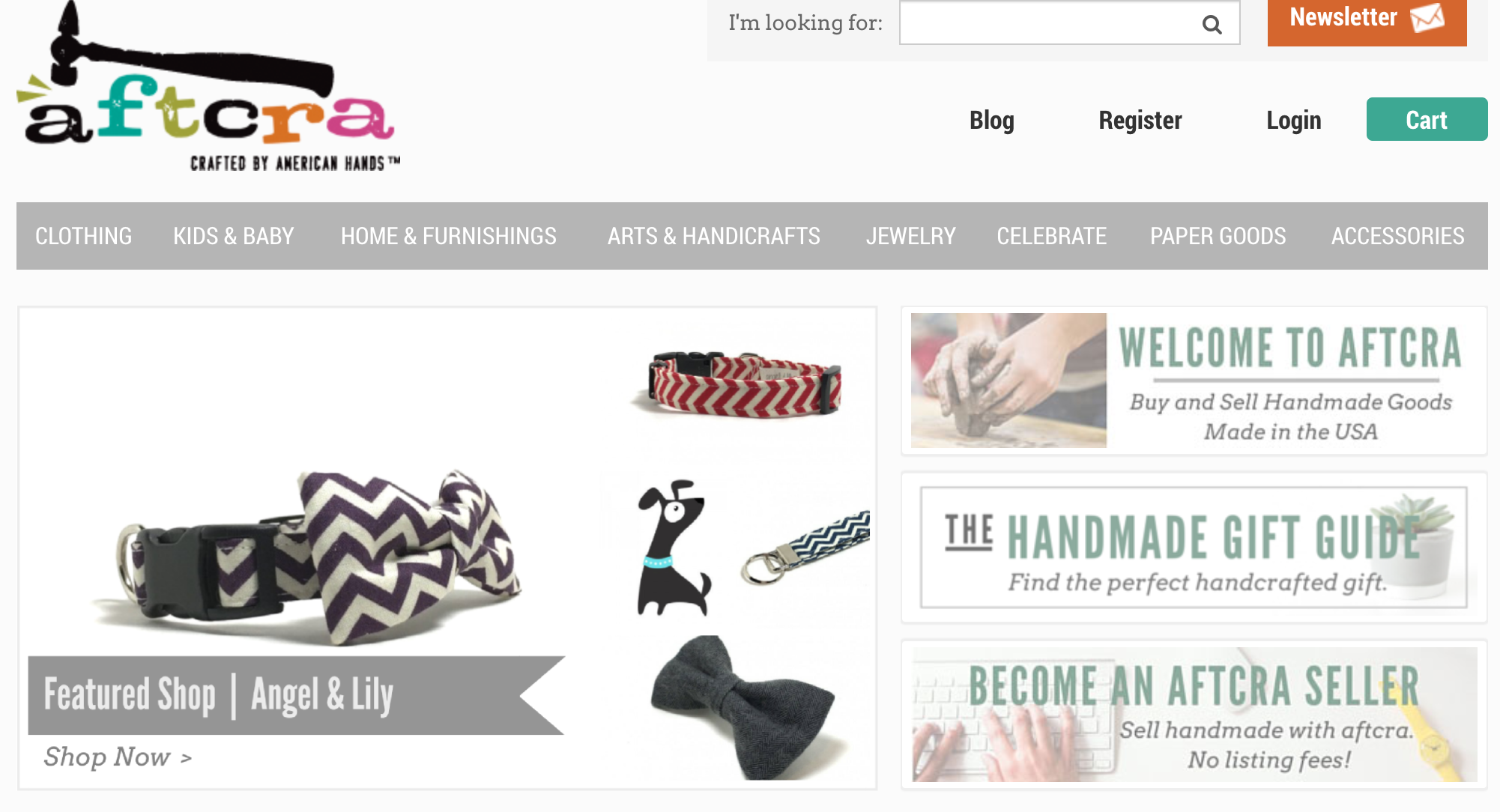 There are no fees to set up an Aftcra store and list items, but there's a 7% transaction fee when an item sells.
6. Folksy
Described as "the UK's biggest online craft fair," Folksy is essentially Britain's version of Aftcra that's designed specifically for the country's artisans.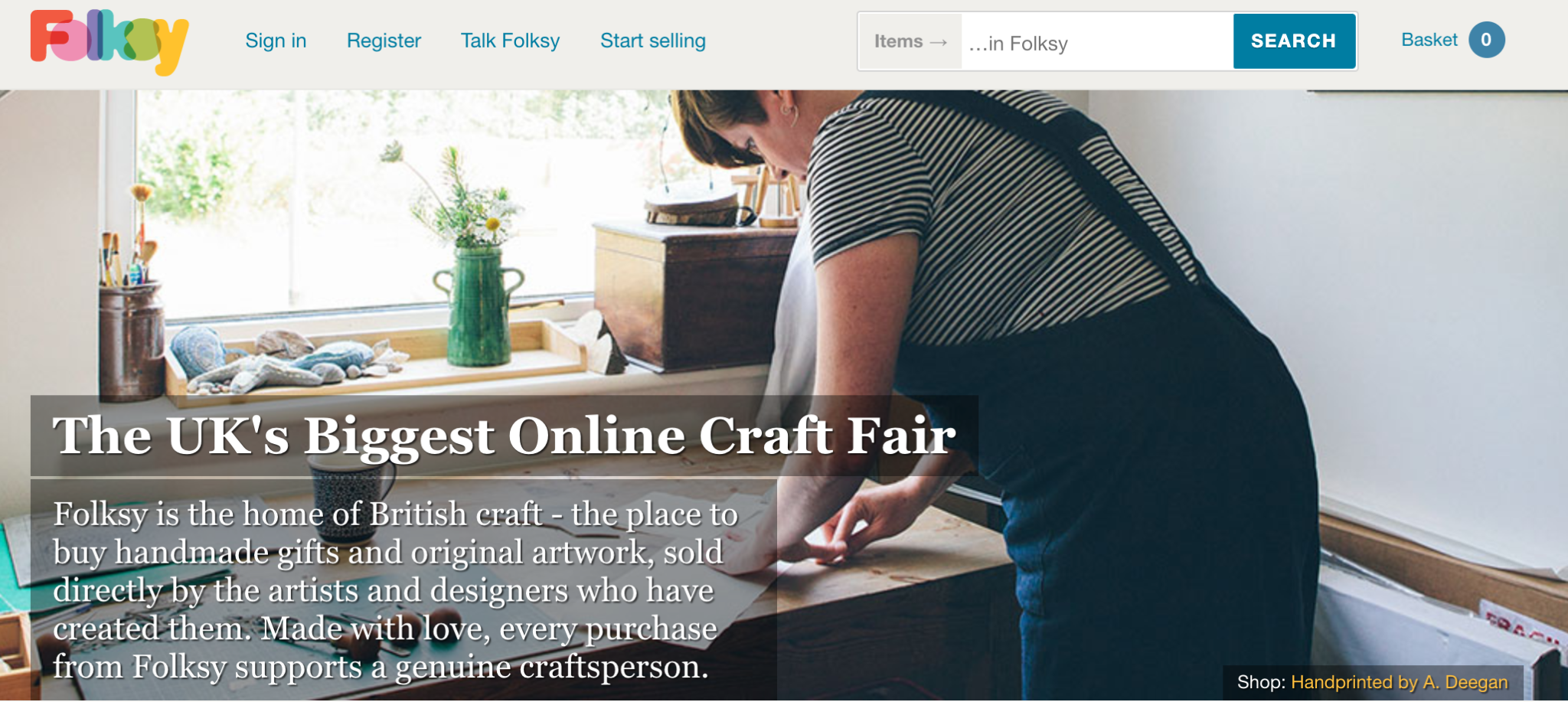 Like Etsy, Folksy charges fees for listing items for sale on its platform. It also charges commission fees (6% + VAT sales commission) and transaction fees.
7. Spoonflower
Spoonflower sells decor, bedding, and other home furnishings; however, it specializes in custom fabrics.

Sellers simply upload their designs, which are then sold and printed on fabric, wallpaper, or gift wrap.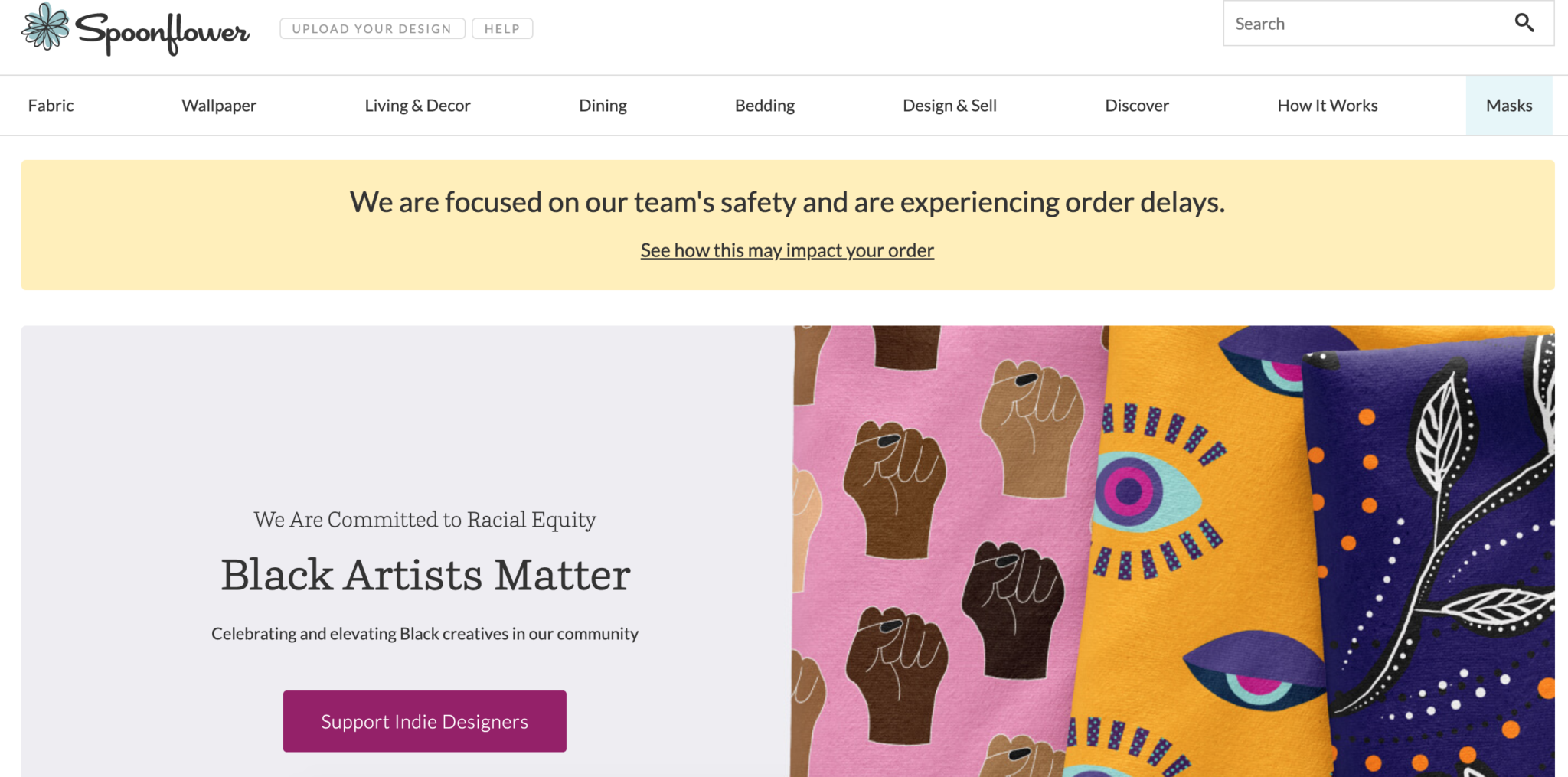 Spoonflower sellers earn a base commission of 10% of the retail price of their design, regardless of discounts or promotions.
8. icraftgifts
This Canada-based marketplace invites sellers from across the globe to list crafts and original art for sale.

Unlike Etsy and many of the Etsy alternatives listed here, iCraftGifts doesn't permit the sale of vintage items or craft supplies.

The marketplace charges a one-time, non-refundable $25 registration fee and offers subscription fee packages that range in price from $10 per month to $15 per month. There are no listing, transaction, or commission fees.
Makers Aren't Limited to Sites Like Etsy
The Etsy alternatives detailed here aren't your only options for selling your crafts, handmade goods, and vintage items, though.

Instead of only relying on sites like Etsy, sellers can also launch their own store exclusively for their own goods. Shopify has an extensive list of website builders for makers to help you get started.

And if you set up your store using a platform like Shopify or WooCommerce, these platforms integrate seamlessly with Sellbrite, allowing you to sell on multiple marketplaces, quickly list items, and sync your inventory across warehouses with ease.